Visualization for Professionals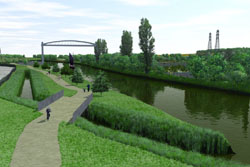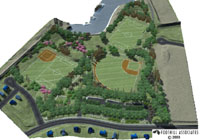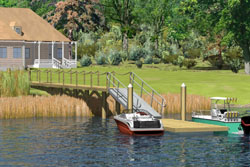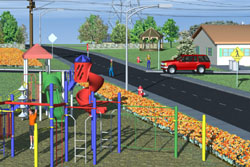 Whether you are creating visualizations for approval on a new pedestrian path, exploring the options for a new residential community, researching the best use for reclaimed land or making educational materials to share with the public, 3D Nature provides tools that are designed to be used in all Landscape Architecture applications.
Nothing expresses a concept like a picture, and VNS is the premiere tool for visualizing landscapes as they are, as they were or may be in the future.
Use the intuitive and flexible Import Wizard to assimilate your terrain data from over twenty supported formats. Crop, shift, scale, adjust and tile during import. Import contour lines or control points from site plan DXF files or GIS Shapefiles and quickly turn them into terrain.
VNS natively understands over 30 different projections including arbitrary local survey systems. Mix and match data in different projections and datums with ease, VNS will properly register site data with GIS files and commercial airphotos.
Import road centerlines, structure footprints, lake perimeters and drainage basins. Attach one of many included pre-made Components to immediately create dirt and paved roads, parking lots and intersections. Quickly flatten building sites, dig ditches and drainage, sculpt parks and landscaping even build whole golf courses (one is included to show you how to get started!).
Import numerous complex buildings, bridges, vehicles and other structures complete with bitmap and UV texturing. Place texture-skinned 3D people and animals quickly and accurately. Add animation paths for vehicles and other moving objects, even make them automatically follow imported road centerlines and paths from site plans.
Place individual trees, bushes and other vegetation with pinpoint accuracy using locations imported from the site plan, or specified interactively in VNS. When the plan calls for forests and flowerbeds, don't waste time placing each plant individually. Link vegetation directly to GIS attributes to control species mix, density and height. As plans evolve, Dynamic Shapefile ReImport keeps the visualization up-to-the-minute. Turn on Realtime Foliage and see the vegetation in realtime!
VNS is well suited for depicting large parks and communities. Tools for mass placement of 3D structures with alignment to adjacent roads make creating entire developments a snap. Quickly depict urban and mixed urban areas by extruding entire cities from footprint and height GIS data. Exploit satellite and aerial photography to flesh out large areas, and landcover databases to realize expansive vegetated landscapes.
Choose a Viewpoint interactively, moving the virtual camera around with the mouse. Or, copy from an imported position or path with the Path/Vector Transfer tool. Fly down a road centerline. Recreate the perspective from a GPS-surveyed location or the view out the window of the corner office. Explore known or unknown vantages from overhead or person height.
Make renderings sing with realistic moving and evolving clouds: puffy, thick, thin, light, dark or colorful. Add patchy fog, wispy mists and subtle distant haze. Create stunning reflective and transparent flowing streams and lakes with waves, beaches and water foliage.
There is never just one option, often visualization is required to determine the best alternative. Encompassing the numerous variations and synchronizing them all to base project changes could be a herculean task. Scenarios in VNS orchestrate multiple variations of a project within a single easily managed project file. Scenarios can dynamically show or remove elements from a visualization for a particular rendering. Keep the common elements together as you add, remove or relocate buildings, structures, roads and other developments, change lighting conditions, seasons, even show future growth predictions.
Communicate the design by choosing the most expressive medium for the project. Create still images from important vantage points, large posters contrasting alternatives, animated presentations of before and after, fly-throughs, fly-overs and drive-by movies. Interact with panoramic renderings showing every angle from one or more viewpoints. Depict the same proposal, summer and winter or morning and evening. Produce everything from a single unified project!
Add the extra polish to renderings with Post Processing. The Text and Graphic Overlay features can add the professional finishing touch to every visualization. Add a company logo graphic in one corner of the output. Overlay a copyright notice, or mark not-for-release images as such. The Dynamic Text Overlay feature can put updated constantly changing information about current camera/observer position right onto the animation as a heads-up-display of position, elevation, heading/bearing and more. VNS can automatically annotate each image with the Project name, Camera name and Job/ Options name, allowing easy identification of which proposal, variation and view the image represents. Turn photorealistic images into artistic, stylistic or cartoon-like illustrations.
Creating high resolution posters and detailed animations on a production schedule can tax the computing abilities of the fastest computers. Stay ahead of deadlines by harnessing the power of other computers with the SuperConductor render farm controller and license-free Render Engine capability included with every VNS. Buy one license of VNS, get the ability to render on many networked clients overnight or on weekends when they are idle. Deliver more in less time.
VNS 3 has many tools to save you time. When you have made something useful, chances are you will use it again. Minimize redundant work by saving reusable Components for use in future projects. Encapsulate whole schema defining how your data should be interpreted into a standardized Template. Now, creating a new visualization using the same rules is as quick and easy as inserting new terrain and usage data into a new Template-derived project. All the pre-made Components and rule bindings are picked up automatically.
Design your scene and then export it using Scene Express for interactive realtime exploration.
Visual Nature Studio and World Construction Set satisfy the needs of Landscape Architects at two different levels. Visual Nature Studio gives you greater power, precision and flexibility plus some extra features that WCS does not have. World Construction Set is great for concept development where scientific and geographic accuracy are of lesser importance. Both programs give you the ultimate in artistic expression and photorealism. If you would like to learn more about the differences between WCS and VNS visit our Product Comparison Page.
If you wish to further discuss how WCS or VNS can work for you please feel free to drop us a note or call our Sales office at (303) 659-4028.
Place an order via our secure web server.