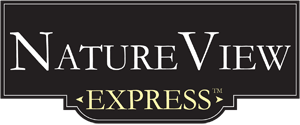 NatureView is 3D Nature's high-performance realtime 3D viewer technology, designed from the ground up to support highly detailed, realistic 3D landscape scenes such as those created by World Construction Set (WCS) and Visual Nature Studio (VNS) with the Scene Express add-on. NatureView can handle complex scenes with tens of thousands of pieces of vegetation, beautiful texturing, easy navigation and animation capabilities. With a refined user-interface, excellent performance and compact and easy download and install, NatureView is the viewer of choice for 3D landscape visualization.
Visit our NatureView Express samples for downloadable examples of NatureView scenes!
Features and Advantages:
Speed


For dealing with highly-realistic and detailed scenes with large amounts of vegetation, NatureView easily outpaces other off-the-shelf realtime 3D solutions. NatureView is based on modern scene graph technology with aggressive culling and level-of-detail control to deliver maximum performance from your computer.

User Interface


NatureView's brand-new interface is elegant and intuitive. Featuring mouse, keyboard and onscreen-button controls for all major functions, NatureView can be operated in whatever fashion is most comfortable to you or your eventual user. Both beginning users and VR experts will find NatureView's controls to their liking. Eighteen months of design evolution and testing have gone into the NatureView interface, making it one of the friendliest 3D programs around.

Great Features

Multiple stored viewpoints
Animated cameras
Info window displays current position and viewpoint name
Turn on and off categories of objects — vegetation, structures, labels, etc.
Terrain following
Goto with a mouse click
Continuous Cruise Throttle

Compact and Easy Install

No enormous time-consuming downloads. No complicated installers and uninstallers. No weird junk cluttering up your users' systems. NatureView Express is one small file, NatureViewExpress.exe, just over 2Mb in size. No DLLs. No registry entries. Just include a copy of it on-disk with your scene, and it's ready-to-run! When you don't need it anymore, just delete it and it's gone from your system. Include it on DVD/CD-ROMs, give out web links to it (only a 1Mb download, zipped), even put it on a floppy — it's that compact!

Free Viewer Redistribution

Scene Express owners have the ability to redistribute NatureView Express free of charge with their NatureView scenes, by whatever media they prefer, at no additional cost. The latest version of NatureView is always available for free download from 3D Nature's web servers. We prefer that user not host copies of NatureView on their own web sites, but rather link to our master copy, preventing out-of-date versions from being distributed.

Efficient Scene Distribution

NatureView stores all scene data in compact and efficient data formats, optimal for distribution by CD-ROM, network or download. NatureView scenes can be automatically zip-compressed by Scene Express, wrapping them up into a single easy-to-manage file that NatureView will transparently decompress before using. See our NatureView Express samples for examples of how compact a sophisticated and detailed NatureView scene can be!

Virtual Reality System Support

NatureView supports a variety of immersion-enhancing stereo 3D options such anaglyphic, quad-buffered and split-screen techniques.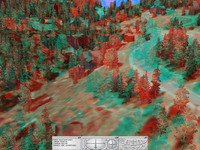 Customization and Branding NatureView scenes can display a company logo overlay onscreen at all times, reinforcing the brand of the organization that did the visualization. Additionally, NatureView can be instructed to display an un-removable watermark notice, perfect for scenes that are not-ready-for-release. Moreover, you can configure the Info window to display customized text with continuously updated variables for position, viewpoint name and more. Finally, NatureView can be instructed to display a notice at startup, useful for conveying credits, license terms or usage tips.