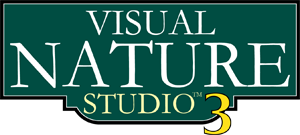 3D Nature Demo Version with Tutorials
Availability
The Visual Nature Studio 3 (96Mb) Demo Version is available for download (at no cost) from our Web server, with video and HTML Tutorials provided. They are currently available in self-extracting archive form for Microsoft Windows.
Limitations
The Demo Version will not allow you to save your work, preview renderings will have a "rainbow bar" across them, and certain other features are intentionally disabled. A window may appear periodically to remind you that you are using the Demo Version. The Demo version is intended only for you to try the program in order to decide if you wish to buy it. You may not use the preview version to create any finished work.
System Requirements
To run 3D Nature Demos, your system should have 2GHz processor speed and at least 1Gb of memory. If you download and extract the Demo onto your hard drive it may need as much as 300Mb of space.
You will also need a True-color (16, 24 or 32-bit) OpenGL capable display running at a resolution of at least 1024×768. Before running the VNS Demo, make sure you have the latest display drivers and OpenGL support for your display card.
Questions
We are happy to answer general pre-sale questions about our products. More specific technical support is available for registered Users. The registered version of VNS includes manuals, hours of video tutorials and a complete Interactive Reference Manual that is online, context-sensitive and has a searchable index.
Installation and Running of the Downloadable Demo
Once the self-extracting archive has finished downloading, just double-click the file to run it, and it will self-extract a WCS directory with the necessary files. Double-click the appropriate Demo.exe icon within the WCS directory to run the Demo. The tutorials will be found in the Help subdirectory within the WCS directory and can easily be accessed through the Tutorials page of the new Startup window.
Download WCS/VNS Demo Kit
Download VNS 3 Demo Version with Tutorials for Microsoft Windows (Approximately 93Mb)