What is Visual Nature Studio?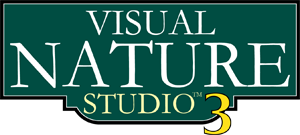 Visual Nature Studio 3's redesigned interface makes creating complex scenes easier than ever before! Additionally, faster rendering of animations along with still shots guarantees faster delivery of final product.  Here's a detailed look at what else is new in VNS 3.
If a picture is worth a thousand words, a visualization may be the key to receiving government or public approval on a proposed project. Investors are more likely to supply your requested funding if they can see what your site will look like after the bulldozers have done their work. Show your site as it is now, as it was in the past or as it will be in the future.
VNS's engineers have taken the hard work out of creating compelling visualizations but left the fun part for you to do. You don't need an advanced degree to understand how to use VNS. Its users come from all walks of life. They include foresters, engineers, landscape architects, GIS professionals, historians, graphic artists and many, many others.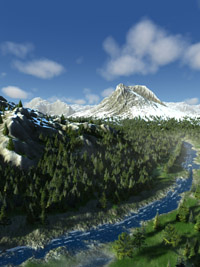 Visual Nature Studio is an amazing tool that brings your visualization to life. Import your GIS or geospatial data and make all of the numbers and obscure information into a photorealistic image or animation that anyone can easily understand. VNS provides tools to control visualization directly from GIS data, simplifying and automating the process. VNS gives you extensive support of readily available terrain, 3D object, vector, point, image, image sequence and GIS data formats.
You can add as much detail as you want or as little as you really need to communicate your design effectively. You can drape imagery, apply foliage and 3D objects such as a house or a street light, then add water features like lakes and streams and turn vectors into realistic roads and highways. You might think the sky's the limit when it comes to the types of realistic features you can add to your scene but it isn't: You can even add celestial objects and stars for night-time visualizations. Ready-made components are included in VNS's Component Gallery that can make your work as easy as selecting the effect you want.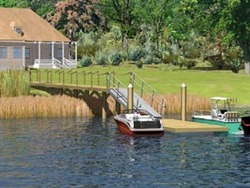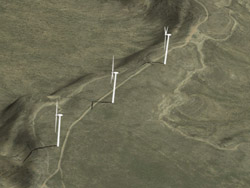 VNS offers easy ways to landscape the scene whether it involves growing a lawn, landscaping a subdivision or growing and harvesting entire forests. Add roads, lakes, streams, cut and fill areas through the use of landform modifying capabilities. This feature allows you to show the terraain as it would be with changes to the current contours.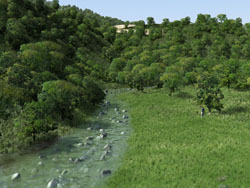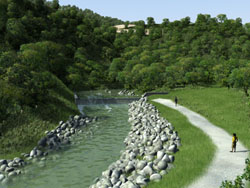 Once your scene is completed to your liking render still images of any size or create animation around your scene. You can use the Scenarios feature to apply changes to the scene (new development, vegetation changes, reclamation etc.) without having to recreate the entire thing!
Learn how VNS might fit into your visualization toolkit by watching the online version of our Real World Applications of Visual Nature Studio Presentation.
To see images created by the world-wide VNS community visit our Image Gallery page.
See a comprehensive list of features in VNS and learn how they will drastically impact your visualization capabilities.
Add On Tools for VNS 
With the Scene Express 2 add on you can export the scene in KML (Google Earth and Arc Explorer), OpenFlight, VRML and many other formats for use in other programs and viewers.
The Forestry Edition of Visual Nature Studio is an add on tool that will expedite the creation and population of forestry visualization projects. The Forestry Edition works in conjunction with Visual Nature Studio to help both new and experienced users get more efficient use out of the powerful forestry features in VNS.
Google Earth is the trademark of Google Inc. All other trademarks are the property of their respective owners.