Visualization for Professionals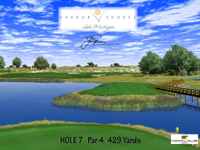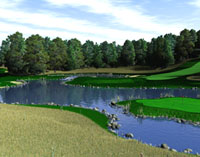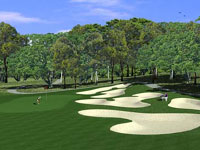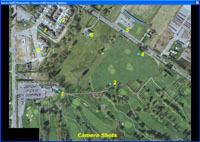 Designing a new golf course means changing a piece of land from its current state into something new. These changes often require the approval of many stakeholders including investors, government zoning boards, potential area home-owners, environmental groups and countless others. Many of these people are not technically minded and have a hard time understanding charts, graphs, plans and CAD drawings. 3D Nature's Visual Nature Studio software (VNS) takes your GIS data and CAD drawings and turns them into photographic still images and immersive animations. Presenting images helps to educate your audience about what your course will look and feel like upon completion. Make your site plans come to life in the minds of every stakeholder.
With photorealistic imagery you can show investors exactly how the course will play. Nothing sells a design more successfully than images and animations of the proposal. Turn empty fields or seaside landscapes into tee boxes, greens, roughs and other elements as they will be once the course is complete. Show a viewpoint from each tee box with all of your precision design elements in place. Illustrate doglegs, sight-lines, vegetation screening and amazing views.
No project moves forward without approval of the environment impact assessment. Eliminate costly miscommunications and delays by ensuring the best understanding of your plans with detailed photorealistic depictions of the site and impact to the surroundings. A better understanding of the project as a whole may result in a more rapid approval process, possibly allowing you to start moving earth sooner. VNS provides the ability to express multiple options quickly, easily and intuitively — something drawings and plans do not offer.
Sketches and diagrams can give a general feel for a course but to truly understand the playability it is better to have an overview of the layout as well as images from throughout the tee boxes, fairways and greens. With Visual Nature Studio you can verify location of greens and other elements on the course. Determine if a water hazard or sand trap are visible from the tee or if they need to be moved slightly to make the course more (or less!) player-friendly. Identify the proximity of nearby homes and other interference factors. Ensure that you will not be playing shots out of neighboring playgrounds or flower gardens. Place bunkers, water hazards and tee boxes in a real-world environment to ensure a quality course upon completion. Once you have designed your course you can move through the entire area to make sure it meets your strict design requirements.
What better way to sell a lot on the 9th fairway than to be able to show the buyer what their views will be? Sketches and plans do not convey the beauty of your masterpiece the way photo quality imagery of the finished course can. Potential buyers can appreciate the view from the master bedroom of their course-side home while it's still just a muddy field and a twinkle in your eye. With top-notch marketing collateral, lot sales can begin much earlier than previously possible, an advantage not lost on potential investors!
Your next course may be in the deserts of Africa, the green hills of Scotland or on the shores of the Pacific Coast but no matter where your setting, Visual Nature Studio will express the unique feel of your site. A large foliage library and hundreds of pre-built Components provide the tools you need to get your project off the ground quickly. Visual Nature Studio includes Components for fairways, roughs, greens, water hazards, sand traps and tee boxes. You can drag and drop these into your scene and they will immediately bring your drawings to life! Then customize your creation to meet your exact needs.
Visual Nature Studio and World Construction Set satisfy the needs of Golf Course Architects at two different levels. Visual Nature Studio gives you greater power, precision and flexibility plus some extra features that WCS doesn't have. World Construction Set is great for concept development where scientific and geographic accuracy are of lesser importance. Both programs give you the ultimate in artistic expression and photo-realism. If you would like to learn more about the differences between WCS and VNS visit our Product Comparison Page.
If you wish to further discuss how WCS or VNS can work for you please feel free to drop us a note or call our Sales office at (303) 659-4028.
Place an order via our secure web server.